Specialist Deep Cleaning 
No job or location are the same so contact us today with your needs and let us work with you to design a bespoke solution for you. With experience in schools, offices, accomadation, care facilities we can tailor a deep clean to suit your needs
What We Provide
CaterClean can help ensure your workplace is fully compliant with all COVID-19 Return to Work Safely Protocols as issued by the HSA and HSE and provides all required specialist equipment and expertise to ensure that your business is deep cleaned, disinfected and ready to service your customers safely.
For more information on how CaterClean is responding to the pandemic, see our Covid-19 Guidelines & Protocols below.
Complete Sanitisation Solution
Electrostatic E-Sprayer
To ensure a premise is disinfected against Covid-19, the aim is to get good contact between the antiviral agent (the disinfectant) and all the places a virus may be lurking including in the air or on surfaces. Good contact time with the air along with a uniform coating of all surfaces is the perfect scenario.
That's where the Electrotic E-Sprayer comes in. Our specialist machine creates a super-fine mist of disinfectant and can reach all the hard-to-access objects and areas, thus providing a much fuller and more comprehensive coverage than a generic spray bottle or other cleaning products.
Protecting your staff and customers, the Electrostatic E-Sprayer also uses an environmentally friendly, non-toxic fogging treatment, offering a green, clean alternative to harsh toxic chemical disinfectants, known to damage the environment.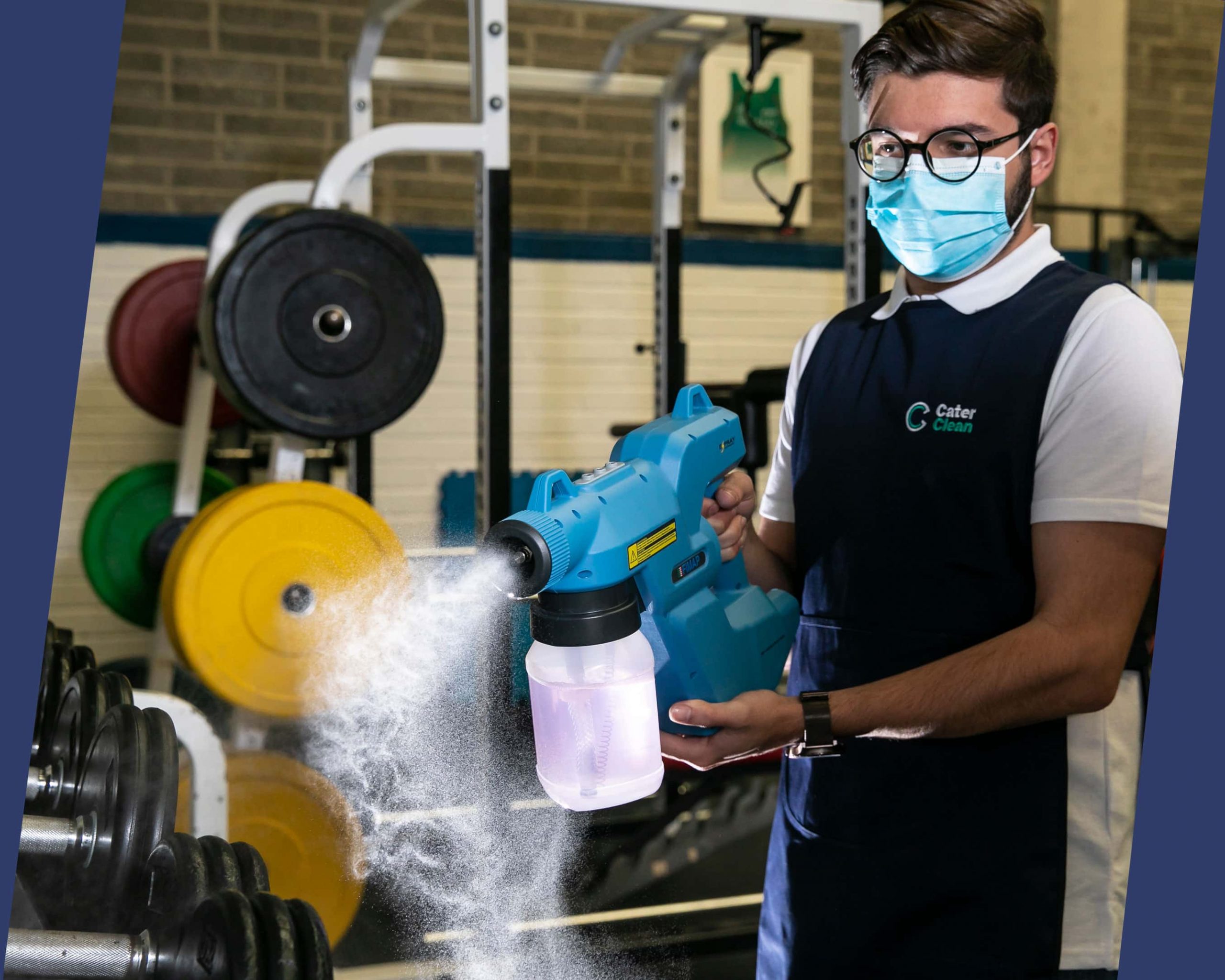 Covid-19 Cleaning and Guidelines
CaterClean can help you ensure your workplace is fully compliant with all COVID-19 Return to Work Safely Protocols as issued by the HSA and HSE which includes information on cleaning and other measures required prior to re-opening your business.
Staff Training
All our staff, new or temporary, are trained to their level of responsibility in line with government Covid-19 guidelines for safety and hygiene. This includes any new procedures we put in place such as social distancing and fitness to work policy, the wearing of personal protective equipment, cleaning and sanitation. Refresher training will also be provided throughout the year.
All staff are aware that they must not attend work if they are displaying any symptoms of COVID-19 such as coughing, shortness of breath or high temperature.
Staff Onsite
All staff have been provided with Covid-19 specific training and the staff provided to you will be expertly trained in your specific sector service, ensuring a customised cleaning approach for every client. Staff are all fully supervised onsite with scheduled and spot checks provided by a member of our senior team.
Our Commitment to You
Staff with tailored training for your specific specialist service
Dedicated manager and point of contact for your specialist service
Full post-report on service provided
Highly skilled and trained staff
Quality cleaning at excellent value
All equipment and materials supplied
Comprehensively insured
Exceptional customer service
Attention to detail
Request a Quote
Please complete all fields below and a member of our team will be in touch shortly with a full quotation, tailored to your business needs.